The government is now dedicating its efforts to implement the remaining of the transitional process and the National Dialogue Conference's (NDC) outcomes, Foreign Minister said on Sunday in Algeria.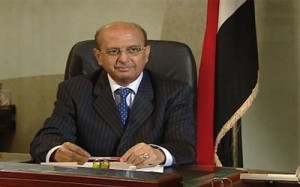 "Efforts are currently focused on the implementation of the rest steps of the process of transition and the dialogue's outcomes to build the modern civil state and fulfill the Yemeni people's aspirations of development, prosperity and a better future," Abu Bakr al-Qirbi said in a lecture delivered in the Diplomatic Institute at the Algerian Foreign Ministry.
Al-Qirbi reviewed the latest developments in the national arena and the unique experience of peaceful political settlement Yemen reached in 2011, which steered Yemen from conflicts and wars.
He also indicated to the steps that have been achieved to date within the political process based on the GCC-brokered initiative and the UN Security Council resolutions.
He said that the NDC conclusion and the ongoing implementation of its outcomes agreed upon by the various political forces have placed Yemen on the verge of a new stage under a six-region federal state and a new constitution guarantees the principles of freedom, justice, democracy and safeguards the country's unity.
Several high-ranking officials from the Algerian Foreign Ministry, heads of diplomatic missions and mass media representatives attended the lecture of the Foreign Minister, who is in Algeria to take part in the 17th Ministerial Conference of the Non-Aligned Movement (NAM) concluded recently.
HA/AF
Saba