Foreign Minister Jamal al-Salal discussed on Sunday with Coordinator for Counterterrorism at the U.S. Department of State, Tina Kaidanow, joint cooperation between the two countries in the counterterrorism field.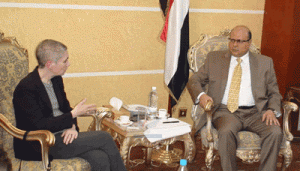 At the meeting, Kaidanow conveyed greetings and congratulations of the U.S. Secretary of State John Kerry to al-Salal for winning the confidence to assume the position of Foreign Minister, and wished him success in his new duties.
She hailed the efforts of President Abd Rabbo Mansour Hadi in pushing forward the transition process and in combating terrorism and the successes that have been achieved by the armed forces in countering the terror elements in the provinces of Abyan and Shabwa.
The foreign minister confirmed Yemen's keenness to develop the bilateral relations and strengthen the joint cooperation in the counterterrorism area. He pointed out that Yemen had made great strides in this area.
Al-Salal referred that there is a comprehensive strategy for reconstruction and rehabilitation includes several aspects, including the economic and social development.
He expressed the hope of the continued support from the brotherly and friendly countries to Yemen to face the security and economic challenges, particularly the scourge of terrorism, which not only threatens the security and stability of Yemen but also the international security and peace .
BA
Saba