President Abd-Rabbu Mansour Hadi reviewed on Thursday in a wide-range meeting with heads and members of the cabinet, parliament and Shura councils the latest developments in the country from different aspects.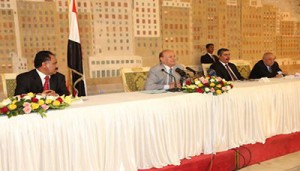 During the meeting, President Hadi delivered a speech where he touched upon a number of topics related to the current situation in the country and the efforts for tackling those challenges.
Hadi said that this meeting came after the formation of the new government and the technocrat government which was formed after a long negotiation in order to reach this formation which was agreed upon by most political components.
The President urged all members of the Parliament and Shura councils along with societal and political components in the country to support the new government with all required assistance in order to face current challenges, saying this government is facing exceptional and dangerous challenges which should be handled.
He added that the new government will be responsible for restoring the prestige of the state and security and stability besides surviving the economy's current situation.
The President urged the new government to accelerate the formation of the economic committee as it was stipulated in the Peace and National Partnership Agreement (PNPA), demanding all concerned parties to be committed to the texts of this agreement.
"As you know, we are partners in our great and national dream, the dream of a new federal Yemen.. and this dream enforced me to face all kinds of pressures which I actually faced with a high degree of patience," Hadi said.
"All fabricated crises in the country whether the old ones which came as a result of the political conflict in the past or the new ones are aiming at hindering the project of change in Yemen based on modern and civil state," the President said in his speech.
Moreover, the President called on everyone to shoulder his responsibility toward realizing our great project of a stable and secured Yemen.
The President said in his speech that the whole country is in front of two choices; whether to restore the state in a strong and modern basis to head towards the new federal state of Yemen or to give up and continue working in weakening the state's role and its institutions.
Hadi concluded his speech by calling the attendees to not disappoint the Yemeni people who trust on their wisdom, urging them to put this dispute aside for the future of our children and the country and promised all Yemenis to shoulder the responsibility of the country to bring in stability.
"The more we are unified on Yemen's new project, the more we can defeat all ill and samll projects which inevitably will die as well," Hadi said.
The meeting was attended by Parliament Speaker Yehia al-Raee, Prime Minister Khalid Bahah and Shura Council Mohamed Ali Othman.
FA/AM