Federica Mogherini, EU High Representative for Foreign Affairs and Security Policy/Vice-President of the European Commission, met today in Brussels with the H.E. Abdul Malek Al Mekhlafi, Deputy Prime Minister and Minister of Foreign Affairs of Yemen to discuss the current political and humanitarian situation in the country and prospects for resolution of the conflict.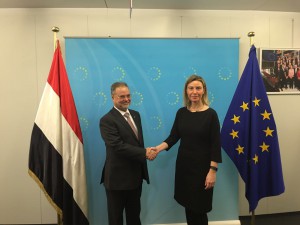 During the discussion, HR/VP Mogherini recalled the full support of the European Union to ongoing efforts by the UN Special Envoy for Yemen Mr. Ismail Ould Cheikh Ahmed to achieve a resumption of negotiations, in line with relevant UN Security Council Resolutions.
She stressed the urgency of an inclusive political solution to end the current conflict in the face of increasing state fragmentation, human suffering, the rise of terrorism and potential regional spillover. HRVP Mogherini and Minister Al-Mikhlafi discussed ways to achieve a durable ceasefire. Confidence building measures, including the release of political prisoners, the end of cross-border attacks will play an important part in this endeavour.
In the face of the unprecedented humanitarian catastrophe in Yemen, HR/VP Mogherini underlined the need for all parties to ensure the protection of civilians and of humanitarian aid workers, and to facilitate unhindered access for assistance throughout the country.
The EU reiterated its readiness to continue playing its part  also in humanitarian and development efforts to the benefit of all Yemenis, highlighting the need for a concerted and coordinated approach of the international community and the Government of Yemen to the country's reconstruction.