President Abd-Rabbu Mansour Hadi reviewed on Thursday in a wide-range meeting with heads and members of the cabinet, parliament and Shura councils the latest developments in the country from different aspects.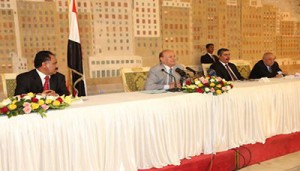 During the meeting, President Hadi delivered a speech where he touched upon a number of topics related to the current situation in the country and the efforts for tackling those challenges.
Hadi said that this meeting came after the formation of the new government and the technocrat government which was formed after a long negotiation in order to reach this formation which was agreed upon by most political components.
The President urged all members of the Parliament and Shura councils along with societal and political components in the country to support the new government with all...
Read More