Prime Minister Mohammed Salem Basindwa met here on Wednesday with Secretary-General of the Arab Federation for Fish Producers (AFFP) Mahmoud Radhi Hasan.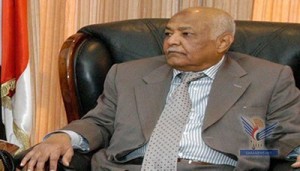 At the meeting, Basindwa and Hasan discussed cooperation areas between Yemen and the Federation and possible means to enhance the fisheries sector in Yemen.
They also reviewed the efforts made by the AFFP to strengthen Arab fisheries sector and boost the sector's support to the Arab economic development.
The Premier talked about Yemen's enormous wealth of fish, stressing the government's keenness to develop this vital sector and to encourage local, Arab and foreign capitals to invest in the fisheries sector.
For his part, Hasan reviewed the Federation's activities and plans to promote Arab cooperation in the fisheries sector, including the establishment of an Arab holding company concerned with Arab fisheries investments.
HA/AF
Saba