Prime Minister Mohammed Salem Basindwa discussed here on Monday with the UN World Food Program (WFP) Country Director Bishow Parajuli joint efforts to implement the sustainable relief project.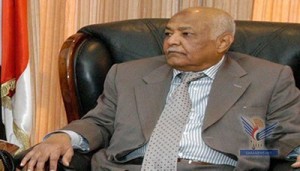 The discussion touched on the aspects related to the food security in Yemen and the humanitarian objectives of the project, which will cost about $ 493 million, as well as the role of the donor organizations in the Gulf in contributing to the process of funding besides the UN organization.
The WFP's official pointed out that the relief sustainable project targets about 6 million people, including 1.3 million student.
The displaced people, the population at risk in the areas with the highest rates of food insecurity lack and children who suffer from malnutrition in Yemen, as well as the pregnant and lactating women along with school pupils and girls in particular, would benefit from this project, Parajuli elaborated.
The UN official referred to the direct negative effects of the continuation of displacement due to conflicts and natural disasters and the decline in the expatriate remittances and in the food production, which has exacerbated the food shortage problem in Yemen.
However, he praised the existing cooperation with the concerned agencies in the Yemeni government.
In meeting, the primer highly valued the WFP's role in support of the government policies and programs to address the food shortage problem, as well as the joint effort to implement the relief sustainable project.
Basindwa noted that he is looking forward to the support of the brotherly countries in the Gulf Cooperation Council (GCC) for this important humanitarian project, confirming the government's commitment and its relentless quest for achieving the food security.
BA
Saba